When it comes to cleaning the floors at Park Central 789 in Dallas, productivity is critical. With more than 700,000 square feet of floors to maintain across three towers, mopping can be a time consuming and strenuous task.
Select Commercial Services, a leading professional commercial cleaning company, maintains the floors at Park Central 789 and participated in a trial of the Rubbermaid Commercial Products Maximizer mop. Dan Keels, district manager for Select Commercial Services, says his team raved about the Maximizer mop throughout the product trial.
"The crew loves the mops for numerous reasons," Keels said. "The mops save them a lot of time because they provide greater floor coverage and aren't nearly as heavy as the previous mops they were using."
Keels estimates that his teams reduce mopping time by 15 minutes per story, or up to one hour per shift, per crew, using the Maximizer Mop. "With the Maximizer mop, we can complete more cleaning tasks in the same amount of time allowing us to improve building cleanliness," Keels said. "The productivity gains have been substantial, and the team likes using the mops."
EASY TO USE, LESS WORKER STRAIN
The Maximizer mop offers 30 percent more floor coverage than traditional mops, allowing organizations to clean floors faster. It also weighs 25 percent less to reduce worker strain and further improve cleaning efficiency.
While the wider mop has reduced cleaning time for Select Commercial Services, Keels says the Maximizer mop's lighter weight is also a huge benefit. Cleaners previously used microfiber wet mops with wooden handles that were much heavier than the Maximizer mop.
Maximizer Mops can be purchased through distributors nationwide. Visit:
https://www.kkssinfinity.com/products/rubbermaid-maximizer-microfiber-mop-medium-green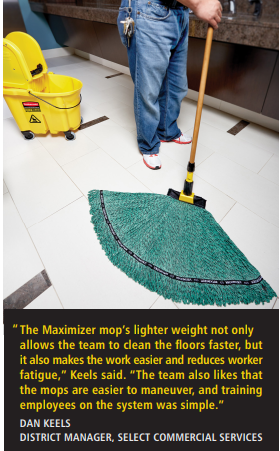 References:
Maximizer | Rubbermaid Commercial Products. (2021). Rubbermaid. https://www.rubbermaidcommercial.com/maximizer/