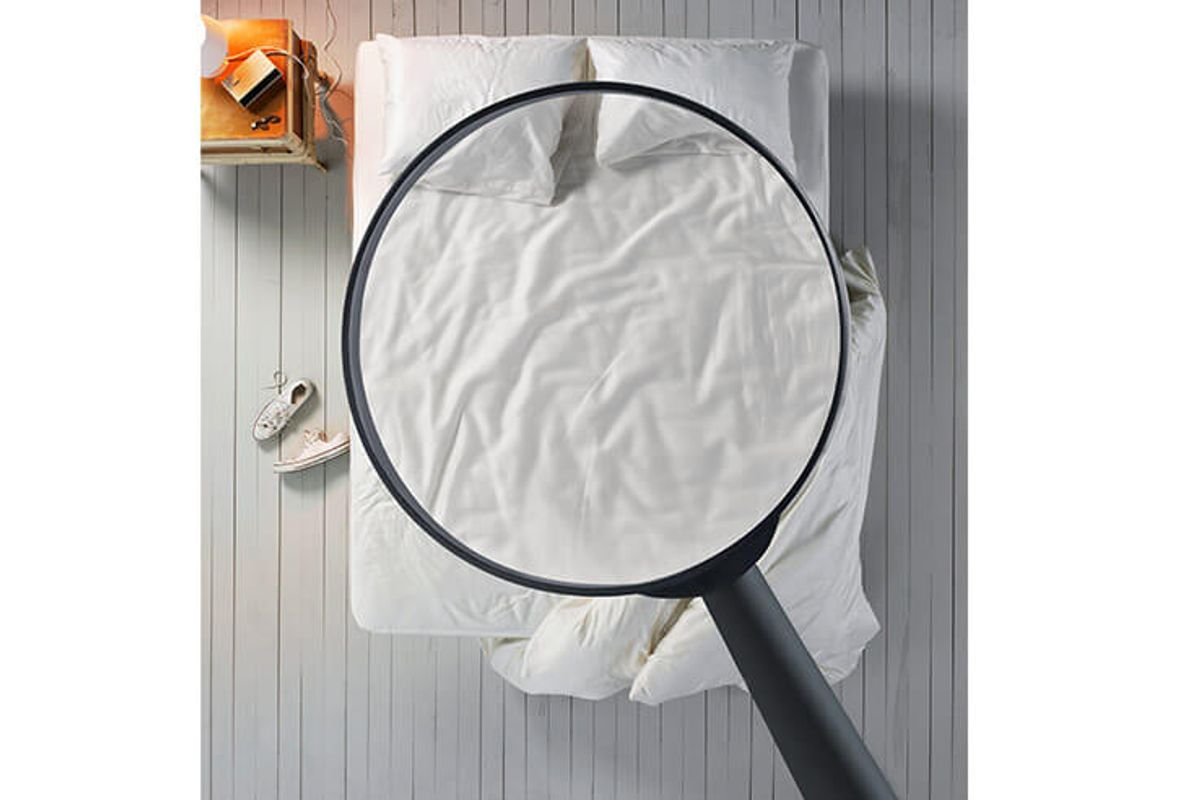 3 Must-Have Features In A Great Bed Bug Blocking Mattress Encasement
by Andrew
https://www.cleanrest.com/blog/3-must-have-features-in-a-great-bed-bug-blocking-mattress-encasement/
If you're reading this article, you're one of two people.
Your mattress has bed bugs
Your mattress is clean, but you don't want bed bugs in the future.
Either way, you're searching for an article written by an expert in plain English that explains how to choose a bed bug blocking mattress encasement. And that's exactly what I plan to do for you today.
First things first, let's quickly establish the difference between "zippered bed bug blocking mattress encasements" and "fitted sheet style mattress protectors". A zippered mattress encasement will fully encapsulate the mattress, protecting all six sides by zipping shut. Fitted sheet style mattress covers only protect the surface and offer no protection against bed bugs.
With that said, you're after a "zippered bed bug blocking mattress encasement", not the "mattress protector".
Next, I'll rattle off 3 must-have features of a great bed bug blocking mattress encasement followed by 1 additional feature you would never think to consider.


Number 1: Great Zipper Security, Strong Zippers, and Zipper Stitching
Pay most attention to zipper security.
Zippered mattress encasements offer a way to lock the zipper in place to prevent accidental openings and guard the small spaces around the zipper slide from passing bed bugs. Some options fail miserably while others pass with flying colors.
If your zipper mechanism fails, then all your hard work getting rid of bed bugs could be for not – you'll be back to square one fighting your bed bug infestation!
The three most common options are Velcro flaps, zip-ties, and Zip-N-Click.
Velcro flaps are just that; a piece of Velcro fabric smooshed over the zipper. We give this option two thumbs down because the Velcro flap doesn't lock the zipper shut, but worst of all, it creates a new area for bed bugs to nest. This should disqualify every encasement with a Velcro flap.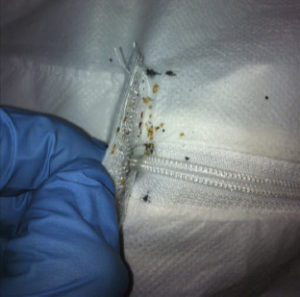 Zip-ties; they will hold the zipper in place at the end of the zipper track, but they're difficult to use and you can't reuse them. Try snaking a super small zip-tie through the miniature hole in the zipper then through a hoop sewn on the encasement while holding a martini – stop it, don't even try it. Next, you'll need a razor knife to cut the zip-tie when it's time to launder, risking damage to the encasement and injury. Zip-ties don't check all the boxes. Zip-ties are not a great option.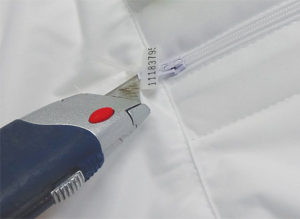 Zip-N-Click; it's a patented fully integrated, docking station for the zipper. The zipper slides into the dock and the cover of Zip-N-Click snaps shut so you know it's sealed. It's 100% bed bug proof and doesn't create a new area for bed bug to nest. Even better, just pop the cover open and unzip when it's time to launder. Yes, you can open and close Zip-N-Click while holding a martini – we tried it!
Video Player
Zippers are generally less durable when they are smaller and more durable when they are larger. And I've heard stories about small zippers breaking away from the encasement after a few laundering cycles. To avoid this problem, seek a mattress encasement with a strong #5 zipper. It's larger, but it's exactly what you need if the encasement is to last for 10 years.
Here's an image of a #5 zipper vs #3 zipper.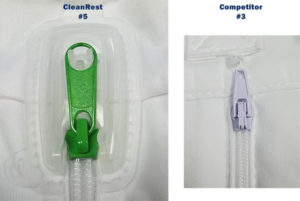 Zipper coils are the most common point of mattress encasement failure.
Most mattress encasement brands try to cut costs by limiting the manufacturing time spent to connect the zipper to the body of the encasement. They use a single stitch instead of two.
When choosing an encasement, make sure the zipper track is sewn using double stitching.
Here's an example of a single stitch. As you can tell by the image, the single stitch started to separate from the body with a little bit of pulling force – 7lbs to be exact. Make sure your encasement has double stitching on the zipper coils.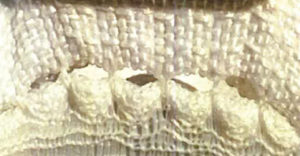 Number 2: Stretchy, Tear-Resistant Sidewalls
Durability is a theme in this article because our encasement needs to perform as intended for the life of the mattress to maximize your return on investment. Otherwise, you will spend more money across the life of a mattress on cheap encasements than if you bought a quality product.
With that said, look for a mattress encasement with stretch sidewalls because sidewalls are prone to tearing if they don't stretch.
Most mattress encasement brands add a waterproof backing to the fabric that prevents the fabric from stretching. This sounds good in theory, but the unintended consequences outweigh the benefit.
Plus, a mattress encasement with stretchy tear-resistant sidewalls will fit every mattress depth. Brands with waterproof sidewalls ask you to measure the exact depth of the mattress and choose from 3 encasement depths. What happens when you replace your 10" mattress with a 16" mattress? Your original encasement will no longer fit, forcing you to spend hard earned money on a new product.
Number 3: Internal Body Seams
Internal seams are almost never displayed on a mattress encasement's product page. Why? Brands would rather hide the weak stitching.
Much like the zipper coil, manufacturers will settle for less expensive "single stitching" or "exposed stitching" on the primary seams of the encasement. Expect this type of stitching to unravel after a few washes, or even slip or break easily. Worse, these brands also offer a 10-year warranty knowing the encasement won't last that long. Encasements with exposed internal stitching should not be warrantied longer than 5 years.
You want double stitching with a fabric covering called "binding". Binded seams are super strong, and will last 10 years.
Brands who are committed to durability will sew the product like the image below.
Bonus Feature: Waterproofing with Breathability
Breathability is a measure of how much body heat a fabric can pull away from a sleeping person, and the most important factor of sleep comfort.
Here's the problem: Waterproof products are not known for their breathability.
Encasements with poor breathability will create a hot, sticky sleep environment because your body heat and body moisture will be stuck around you with nowhere to go.
Encasements with great breathability allow the hotness to escape through the fabric and away from the mattress, allowing you to sleep cool and dry throughout the night.
Most brands add a breathability icon to the packaging and tout their level of breathability without testing it. Thankfully, CleanRest did the testing, and we learned CleanRest waterproof encasements are over 2x more breathable than leading competitors.
Make sure to choose an encasement brand that clearly describes their level of breathability, otherwise you'll end up sleeping on a hot bed.