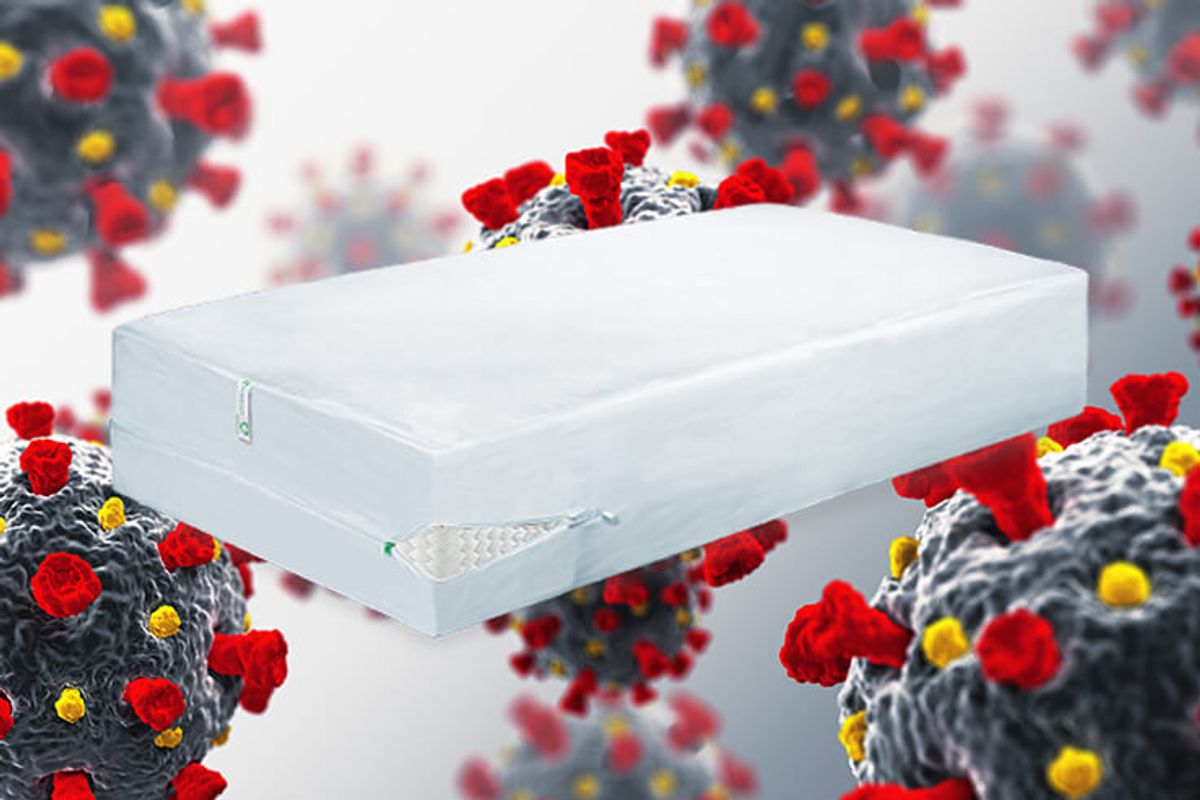 Meeting the expectations of the post COVID-19 traveler
Fact: COVID-19 changed the behavior of all travelers.
When we travel, we expect to have a clear understanding of what steps a hotel took to protect us from the spread of COVID-19. Every obvious touchpoint or point-of-contact will have a sanitation plan; community bathrooms, elevators, door handles, and restaurants will be address.
In this article, we'll talk about place where Guests spend most of their time – the bed.
An unprotected mattress or pillow is known to collect bacteria and dust mites over time, and measures have been taken to promote healthy sleep zones by installing mattress protectors and mattress encasement. Now, COVID-19 is the next mattress and pillow contaminant, and your customer's most relevant concern.
Without proper mattress and pillow protection, one sneeze or cough from a sick Guest is enough to cause a string of infections.
So, the best way to prevent guest-to-guest infections is to be proactive by protecting your mattresses and pillows.
3 bedding protection plans to maximize guest-to-guest sanitation
We designed 3 bedding protection plans to coincide with your sanitation standards and between guest laundering protocols. We present options for both frequent and less frequent laundering.
Plan 1: Pillow

p

rotection

o

nly

with

l

aundering

b

etween

e

ach

g

uest
Protecting the pillow from contamination should be a top priority of all hotels. It's the closest item to a Guests respiratory system, and they sleep on it for many hours at a time.
Our waterproof PRO Max antimicrobial pillow protector will defend pillows from virus contamination. It exceeds CDC Level 4 standards for virus barriers!
Bacteria doesn't stand a chance, either. The PRO Max pillow protector fabric has an ingredient (approve by the FDA) that actively kills 99.9% of bacteria, keeping the pillow fresh and clean!
The antimicrobial properties remain 99.8% effective after 50 washes as well!
Waterproof pillow protectors earned a bad reputation for feeling hot, sounding noisy, and causing discomfort by filling up with air.
Not PRO Max.
PRO Max pillow protectors have a hidden side vent – it allows air to escape the pillow so the protector doesn't balloon. It's over 2x more breathable than our competitors as well – it will feel cooler throughout the night.
The pillow protector should be laundered after each occupancy, and our vented end design makes it easy to slip on and off. Housekeeping will not struggle to push air out of the protector since our hidden side vent allows air to escape during installation. This features improves housekeeping efficiency.
Hotel representatives can request a free PRO Max pillow protector sample here.
Plan 2: Mattress

p

rotection

with

l

aundering

b

etween

e

ach

g

uest
One could argue mattress protection is not necessary when you launder sheets between guests stays – but they're wrong. Sheets don't block virus.
Mattress protection is a critical component of a healthy sleep zone.
Here are two recommendations for virus blocking mattress protection when laundering between Guests is required:
Install

CleanRest waterproof mattress protector

s

.
This product exceeds CDC Level 4 standards for personal protective equipment; blocking virus and bacteria down to 32 nanometers in size.
Its fitted sheet style design is perfect for between–guest laundering protocols. Easy to install, easier to remove. Housekeeping staff will remain efficient, allowing them to keep up with the pace of the day.
The breathability of CleanRest waterproof mattress protector sets itself apart from other brands.
Testing completed by an independent lab confirms our waterproof sleep surfaces are 2.3x more breathable than leading competitors. Poor breathability will trap body heat at the sleep surface, creating a hot, sticky sleep. Great breathability will transfer body heat away from the sleep surface so your guests can sleep cool and dry.
Install

CleanRest

PLATINUM encasing mattress pad

s

.
CleanRest PLATINUM is essentially a zippered encasement with a padded sleep surface. The sleep surface is waterproof. So, it blocks virus and bacteria to CDC Level 4 standards.
The padded sleep surface is fully removeable and interchangeable. Quickly remove the current top and zip on a new padded top when it's time to launder. The removeable top allows for long-term installation of the product while supporting between guest laundering protocols.
Plan 3: Mattress Protection with Less Frequent Laundering
CleanRest PRO and PRO Max zippered waterproof mattress encasements are best for a long-term solution to mattress sanitation. This product will fully encapsulate the mattress by zipping shut, protecting against all elements.
The waterproof panels are CDC Level 4 compliant, of course!
This product is considered long-term protection because it takes a bit more time to install or remove when compared to fitted sheet style mattress protectors or CleanRest PLATINUM. But, PRO encasements are far more efficient when compared to competing zippered mattress encasements.
See, CleanRest zippered encasements sides are stretchy with air permeable fabric.
For example, the stretchy sidewalls on our Queen mattress encasement stretch to fit mattress depths from 9 to 18 inches. The stretch allows one Queen mattress encasement to fit all mattress depths. It also saves you from having to stock multiple depths.
On the other hand, our competitors' sidewalls do not stretch. They sell Queen mattress encasements in 3 depths – this adds extra product to your stock rooms while risking a poor fit if your mattresses are not all the same depth. Some of our competitors go as far as registering their products as Class 1 medical devices for the soul purpose of denying your returns if you buy the wrong depth. Ouch!
Click here for more information:
https://www.kkssinfinity.com/search?q=encasement
References:
A. (2020, November 10). 3 Bedding Protection Plans to Prevent Guest-to-Guest Contamination. CleanRest. https://www.cleanrest.com/blog/3-bedding-protection-plans-to-prevent-guest-to-guest-contamination/